High-Quality, Durable Steel Sheet Floor Plates from Allen Park, MI
---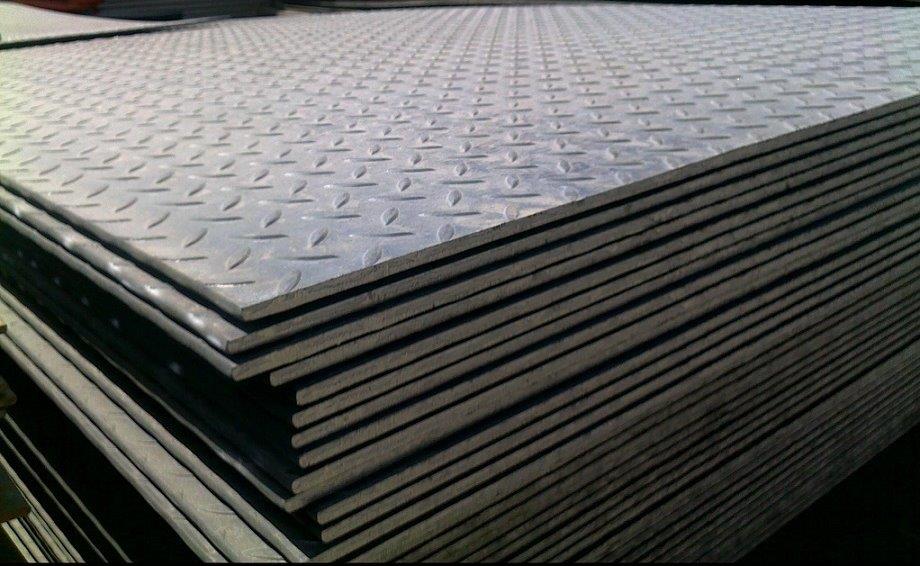 Quality steel floor plates are crucial to keeping patrons from slipping and harming themselves - choose the best ones for your clients.
Center Steel Sales understands that steel sheet floor plates (also known as checker plates, diamond plates, or four-way plates) are an integral product for our customers. We pride ourselves in our ability to deliver this increasingly needed product to our clients quickly.
Our clients can simply buy a lift to complement their inventory, while some of our manufacturing clients rely on us for multiple truckloads at a time. We have thousands of tons of floor plate inventory with significant amounts ready to ship at a moment's notice; just call us up and let us know the specifications you require and we'll quickly get your order shipped out!
---
The uses and benefits of floor plates are innumerable and can be incorporated into multiple applications.
These plates are slip resistant, allowing for traction on stairs, floors, loading docks, truck beds, scales, and more, no matter if they're wet, dry, or icy.
The following steel sheet floor plate sizes start as rolls and can be cut into any length needed:
14ga x 48" and 60"
We always have 48 x 96 - 48 x 120, 60 x 120
12ga x 48" and 60"
We always have 48 x 96 - 48 x 120, 48 x 144, 60 x 96, 60 x 120
1/8 x 48", 60" and 72"
We always have 48 x 96 - 48 x 120, 48 x 144, 60 x 96, 60 x 120, 60 x 144, 72 x 96, 72 x 120, 72 x 144
3/16 x 48", 60" and 72"
We always have 48 x 96 - 48 x 120 48 x 144 60 x 96 60 x 120, 60 x 144, 72 x 96, 72 x 120, 72 x 144, 72 x 240
1/4 x 48", 60" and 72"
We always have 48 x 96 - 48 x 120, 48 x 144, 60 x 96, 60 x 120, 60 x 144, 72 x 96, 72 x 120, 72 x 144, 72 x 240
5/16 x 48", 60" and 72"
We always have 48 x 96 - 48 x 120, 48 x 144, 60 x 96, 60 x 120, 60 x 144, 72 x 96, 72 x 120, 72 x 144, 72 x 240
3/8 x 48", 60" and 72"
We always have 48 x 96 - 48 x 120, 48 x 144, 60 x 96 60 x 120, 60 x 144, 72 x 96, 72 x 120, 72 x 144, 72 x 240
1/2 x 48", 60" and 72"
We always have 48 x 96 - 48 x 120, 48 x 144, 60 x 96, 60 x 120, 60 x 144, 72 x 96, 72 x 120, 72 x 144, 72 x 240
The sizes below only come as 96" x 240" plates:
3/16 x 96 x 240
1/ 4 x 96 x 240
3/8 x 96 x 240
½ x 96 x 240
5/8 x 96 x 240
¾ x 96 x 240
1" x 96 x 240